Looking For International Student Host Family in Coronach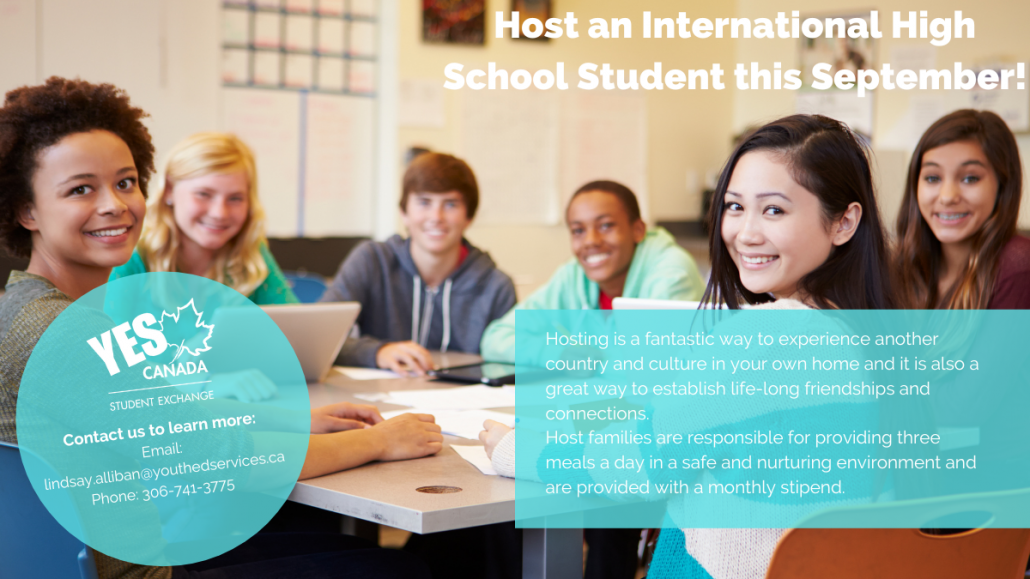 Student exchange company YES Canada is seeking host families in the Prairie South School Division to host one of our international high school students. Students are coming from Various Countries for 3, 5, and 10 month Programs, beginning in September 2022. Students are coming from Germany, Switzerland, France, Thailand, Hungary and Sweden! 
International students plan their study abroad program months in advance and pursue the experience to learn about our culture and language and to build lifelong relationships with their host family and peers. 
We believe that purposeful travel is an important part of what connects and unites us, and the exchange program can continue to build a universal understanding and connection in these unique times. We know that the host family experience is key to providing an enriching cultural and language experience, and provides for a comforting home away from home to students embarking on this journey.  
Why Host? 
As a host family, you can contribute to this experience for the student and also have your own rewarding experience.  Not only do you and your family get to learn about a different culture, you also get to share yours.  We ask that host families provide 3 meals a day, a safe nurturing environment and welcome the student into your family's daily lifestyle. Host families are compensated with a monthly stipend for doing so.  
If you are interested in sharing in this fantastic experience and hosting an international high school student or would like to learn more about our homestay program please contact YES Canada at the email address or phone number below: 
lindsay.alliban@youthedservices.ca
(306) 741-3775 
https://townofcoronach.ca/wp-content/uploads/2022/06/image002125262.png
675
1200
Kelsey
https://townofcoronach.ca/wp-content/uploads/2021/04/logo_coronach_red.png
Kelsey
2022-06-28 10:08:49
2022-06-28 10:08:49
Looking For International Student Host Family in Coronach